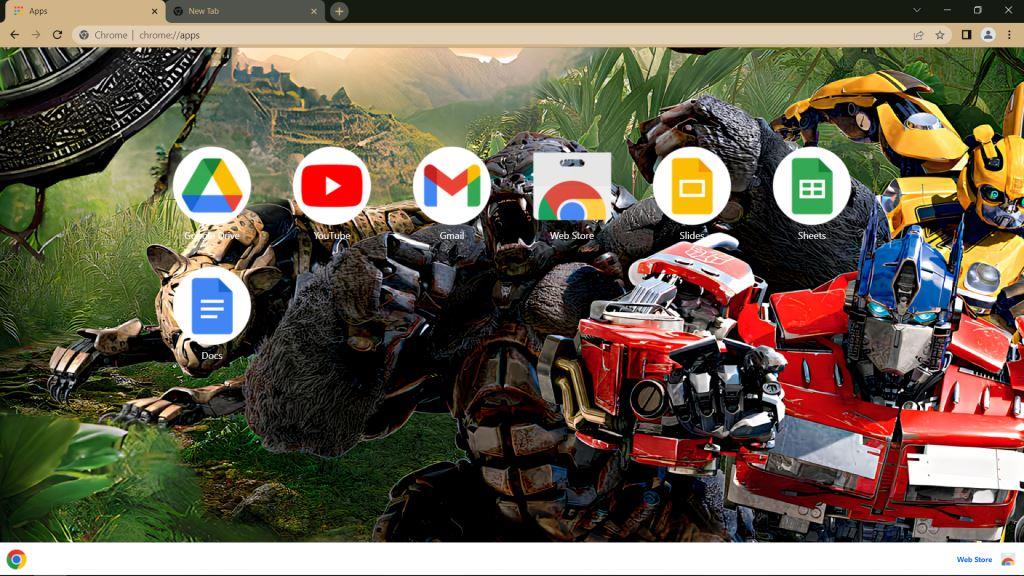 Transformers fans, are you ready to take your online experience to the next level? Introducing the Transformers: Rise of the Beasts Google Chrome theme – a dynamic and visually stunning theme that will make your browsing experience truly extraordinary. Dive into the world of Autobots and Decepticons as they clash in this exciting cinematic adventure. With this theme, you can now revamp your Google Chrome browser to reflect the epic showdown of Transformers: Rise of the Beasts. Let's explore the incredible features of this theme and how it can transform your online world.
Immersive Visuals: Our Transformers theme offers immersive visuals that capture the essence of the movie. The theme features high-quality wallpapers showcasing iconic Transformers in action, bringing the epic battles and transformations right to your browser.
Sleek Design: Enjoy a sleek and user-friendly design that ensures ease of use while maintaining a captivating Transformers-inspired look. The theme's interface is carefully crafted to offer an enjoyable browsing experience.
Customizable Elements: Tailor your browser's appearance to your liking. The theme allows you to customize various elements, such as the background image, colors, and fonts. Personalize your Chrome browser to suit your Transformers preferences.
Quick Access to Transformers Content: Stay up-to-date with Transformers news, trailers, and updates effortlessly. We've integrated quick access links to Transformers-related websites, so you never miss a beat in the Transformers universe.
Optimized Performance: Rest assured, the theme is optimized for performance and won't slow down your browsing speed. It's lightweight and won't affect your browser's functionality.
Easy Installation: Installing the Transformers: Rise of the Beasts Google Chrome theme is a breeze. In just a few clicks, you can have your browser transformed and ready for action.
Get ready to roll out and experience the magic of Transformers: Rise of the Beasts every time you open your Chrome browser. Whether you're a die-hard fan or simply love captivating themes, this Chrome theme is a must-have.
Don't wait! Download the Transformers: Rise of the Beasts Google Chrome theme today and embark on a browsing adventure like no other. It's time to unleash the power of the Autobots and Decepticons in the digital realm!
Tags: Brown