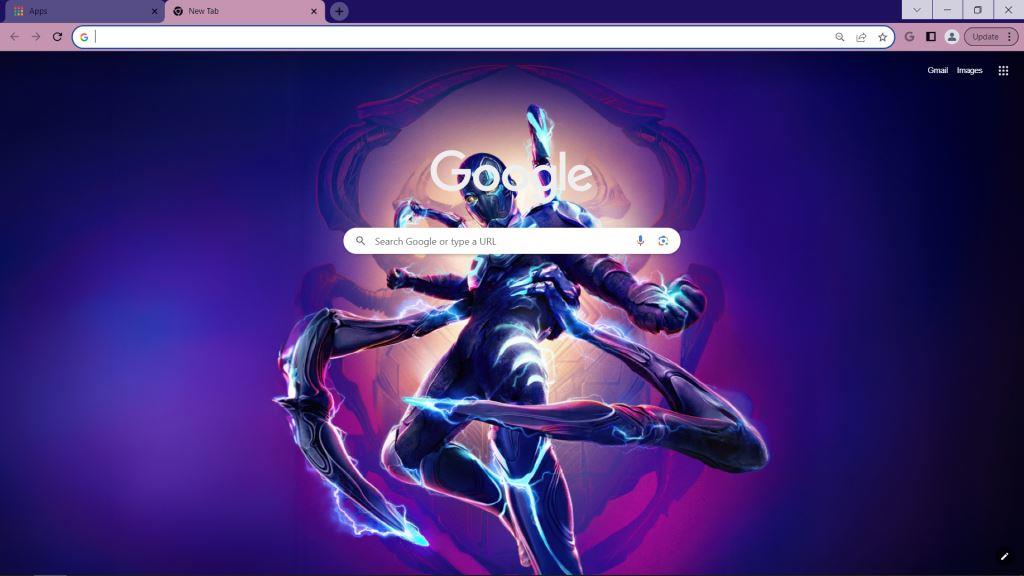 Are you a fan of the American superhero film based on DC Comics' iconic character, "Blue Beetle"? If you are, we have thrilling news to share! We're proud to introduce the "Blue Beetle Google Chrome Theme" – a dedicated theme that brings the action and adventure of Jaime Reyes, the teenage hero from El Paso, directly to your browser.
In this captivating theme, you'll find our protagonist, Jaime Reyes, front and center, showcasing his super-powered exosuit, courtesy of the alien scarab known as Blue Beetle. However, that's not all – this theme is designed to visually enhance your Chrome browser.
The Chrome browser frame adopts a sleek and stylish blue color scheme, which perfectly complements the overall theme's aesthetics. As you open new tabs or switch between them, you'll notice a vibrant pink color that highlights the active tab and toolbar, adding an exciting touch to your browsing experience.
Furthermore, the background of your new tab page features a striking blue backdrop, setting the stage for your online adventures. To ensure optimal readability, all text on the page is elegantly displayed in crisp white.
So, whether you're a devoted Blue Beetle enthusiast or someone who appreciates a visually pleasing browser theme, the "Blue Beetle Google Chrome Theme" is a must-have. It pays homage to a beloved superhero and elevates your browsing experience with its visually appealing design.
Ready to transform your Chrome browser into a tribute to the legendary Blue Beetle? Download our theme today, and let Jaime Reyes' adventures accompany you as you navigate the web in style!